The Glory of the Bookstore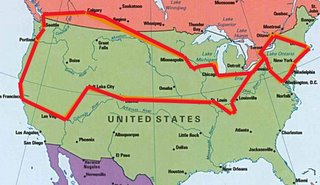 When I think of bookstores, that cliché about sex comes to mind. There is no such thing as a bad one. (Unless there is bookstore that specializes in grotesque hate literature and preaches racial violence; that would be bad. But anyways.)
Whether large chains or local crevices, online or on the corner, bookstores are places you can stumble upon new writers, reach out to old masters, and be swept away by wondrous ideas. And, as a general rule, brilliant people work in bookstores. If at this instant we transported all the bookstore people to one big beach party, it would be a hell of good time.
On this rather ambitious tour of mine, I have decided to visit only independent bookstores for a few reasons. First, my book is about an independent bookstore, perhaps the most famous in the world, Shakespeare and Company in Paris. Second, as an editor with Kilometer Zero, we discovered independent bookstores are more willing to give alternative publications space on their shelves, and for this I will be ever loyal to their cause. And finally, independent bookstores foster community far better than Amazon or large chains ever can. Everything from the note board with apartments to rent or music lessons on offer, to the weekly reading groups, to the booknut behind the cash who will linger over a Paul auster conversation with you, create an environment where people can relate to other people.
So far, I am scheduled to visit 20 independent bookstore in North America and a few more will be added to the list in the coming days. Come and see me if you can. I am on the road starting November 1st and the first stop is in Boston on November 2nd. It should be a mad mad time.