Dissent
One of great paradoxes of life is the role of the dissenter in society. Throughout history, the individuals who have shed the comforts of the group and struck out on their own or stood up for what they believed have been responsible for some of the greatest innovations and the most profound social justice movements. Their reward? They are bullied, ostracized, tortured, and killed by the rest of us.
This paradox is the subject of my latest essay for Ode Magazine and I examine how a new wave of behavioural psychologists and business managers are trying to harness the powers of dissent without crushing the precious dissenter. It's fine article, so please give it a read *here* or visit Ode's website to learn more about the whole project *here*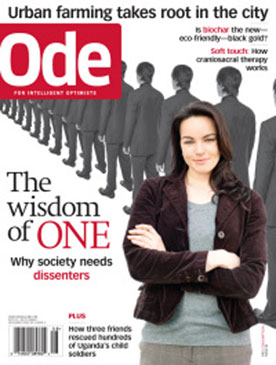 And, for those who aren't regular readers of this space, a quick reminder: Ode bills itself as a magazine for intelligent optimists and it does phenomenal work on issues such as green architecture, ethical investing, and leading-edge science. In an age where magazines are dumbing down and devoting most of their space to paparazzi photographs, it is vital to support this type of dynamic and enlightened publishing venture. Let's be honest: the vast majority of conventional media plays to our fears and our lusts with overwhelming coverage of crime, salacious scandals, and bullying politicians. Ode takes a different tack and helps remind us that the true beauty and hope of life aren't normally found on the evening news or the front page of your city tabloid. Why not give the magazine a chance and subscribe? You can even get a free issue by clicking *here*
Previous work for Ode
Remember that scene from the The Wizard of Oz when Toto parts the drapes and instead of an all-powerful wizard we find a pathetic, manipulative old man? This is the exact moment we're at with the international economy.
As it turns out, most of the accepted economic theory from the past half-century – wizardry such as supply-side economics, trickle down theory, homo economicus, and the rest – is based upon slanderous half-truths peddled by ideologues such as Ayn Rand, Milton Freidman, and Alan Greenspan. These distorted theories have created a cycle of corruption where economic students learn that base greed and self interest are both human nature and best for society, and then these students go on to become the economists who organize our financial policies. It is a recipe for disaster and, not surprisingly, we're now all sitting at the table with a hot steaming plate of economic disaster before us.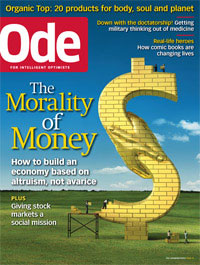 Read my entire feature essay on this travesty in the latest issue of Ode Magazine *here*
- 30 -