← Atelier de Visu
The Majesty of Halloween →
An Upstate Wedding
January 1, 2007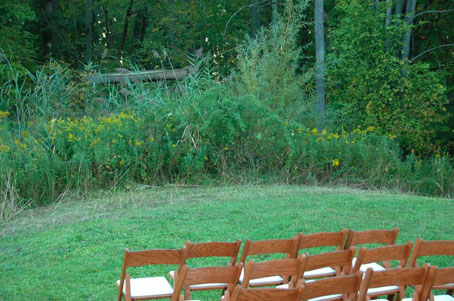 This picture captures the prelude to one of the most intensely emotional and beautiful moments of my life. It was the culmination of weeks of work and years of friendship. It was, if I may be so bold, the wedding of the decade.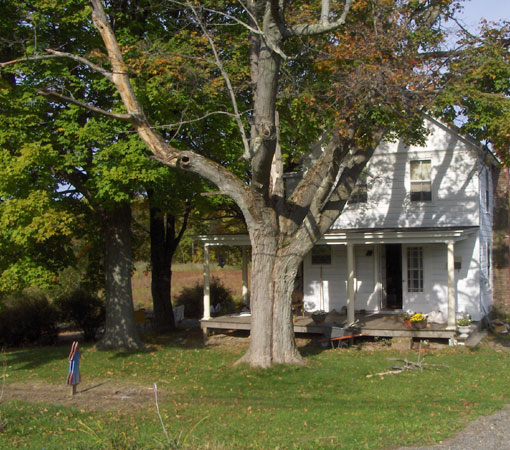 It all happened here, at this farm in upstate New York. It's got about 20 acres of fields and forest, a small barn, a big barn, a country house and even an old ice shed. The farm is between Germantown and Redhook, about 15 minutes from the Hudson River and two hours north of downtown Manhattan on a good traffic day. It was a working farm only a few decades ago, corn most recently, and if you walk the fields out back you can still feel the humps of tilled soil beneath your feet.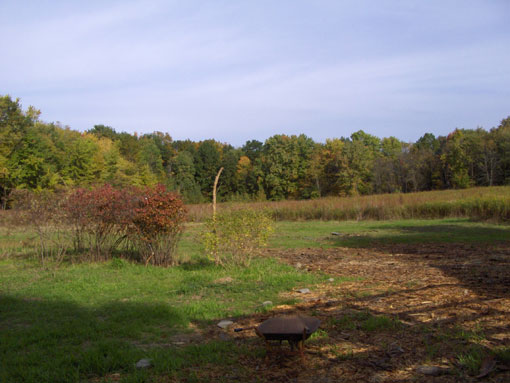 My dear friend, Amanda Park Taylor, bought the farm about 7 or 8 years ago. (Attentive followers of my work might recognize Amanda as the founder of Clovis Press, the Brooklyn bookstore that the Guardian newspaper declared the 4th best in the entire world.) Amanda bought the farm for a number of reasons: As a place of respite from the demands of New York City; as a place where she could one day create an organic vegetable farm and dahlia park; and as a place she could welcome and house her various itinerant musician, artist, and writer friends. I think it is safe to say she never imagined she would marry Jonny Diamond there when she bought the farm, mostly because she didn't know Jonny at the time.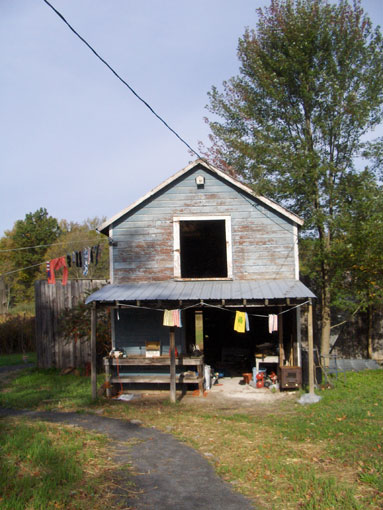 Well, as fate happens, Jonny, another dear friend (whom attentive followers of my work might recognize from his feisty cameo in Time Was Soft There / Books, Baguettes & Bedbugs), moved from Paris to New York, and met Amanda. To be honest, I had something to do with this: Knowing them both and knowing them both to be sensational people, I asked Amanda if she might be able to offer Jonny a part-time job in her aforementioned Clovis Press. She did and, well, who woulda thunk, they fell in love. This doesn't always happen when I secure somebody a part-time job, but I am certainly pleased to have this one incident on my record.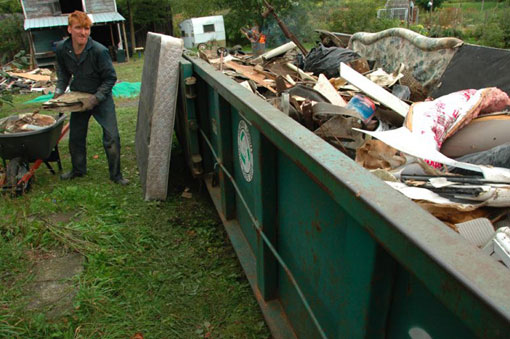 The most beautiful part of this love story, the most beautiful part of any love story, is that Jonny and Amanda decided to embark on that ultimate endeavour, marriage. And they decided to hold the celebration on this farm and invite their friends and family from around the world for a weekend of feasting, dancing, and drunken celebration. Clearly, turning the farm into grounds suitable for The Wedding of the Decade required work so Amanda and Jonny came up with an ingenious plan: They stocked up on broccoli, bagels, and Corona beer and then invited their friends to come live at the farm and help prepare for the grand event. As I rarely have a secure place to live and adore broccoli, bagels and beer, I was the first to take them up on their offer and arrived six weeks before the event to begin digging gardens and hauling garbage.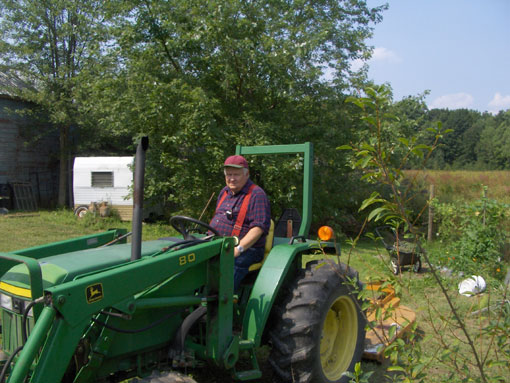 Woody wasn't one of the friends who came from overseas; he has his own farm just down the road and this sexy green tractor. He cleared the back field for the tent site. Woody was utterly wonderful and fit right into our freakish socialist clique: He saw the war in Iraq as a waste of money and lives, he railed against the high tuition fees at American universities that made higher education inaccessible for the lower classes, he longed for a return to local, environmentally friendly farming. And he loves dogs. Long live Woody.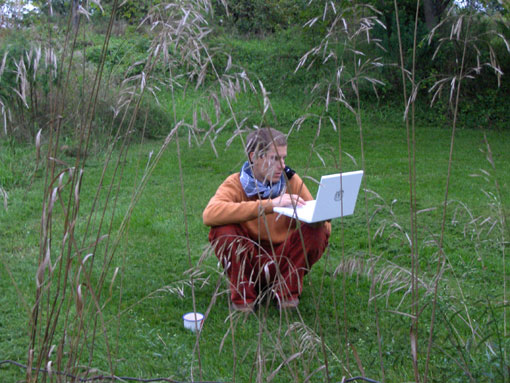 My routine at the farm was bliss: I spent my mornings working on the second draft of my book on the last man guillotined in France and my afternoons clearing brush and digging paths and laying gardens. Next to arrive were those most exquisite friends from Kilometer Zero, Quinn Comendant (pictured above writing algorithms in the fields) and Adrian Hornsby. Q & A. or the Answer and the Question as I now call them. Adrian, as it happens, is a master carpenter, and Quinn knows all about electricity and other scary things, and I happen to have something of a green thumb. I really felt like it was the Justice League of America, all these different superheroes with different super powers coming to the Farm to fight for the Common Good. And this was even before the mighty Buster Burk and his Hulk-like torso arrived from Burgundy. (Sadly, we have no photographic evidence of his highly developed torso, but you must take my word.)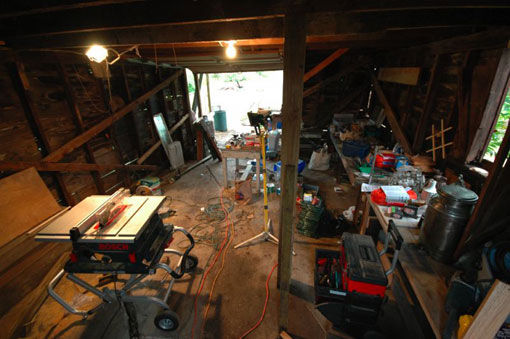 So, people got down and got to work. It made you believe in the potential of collectives and utopias and communal farms. Of course, there were the occasional mishaps, but the truth is that the week before the wedding a dozen people came from France, England, Germany, Russia, Spain, Finland, Canada, and California to work together and prepare for this triumphal celebration of love. It was tremendous, tears-in-the-eyes, wish-you-could-live-forever, love-your-friends-until-it-aches tremendous.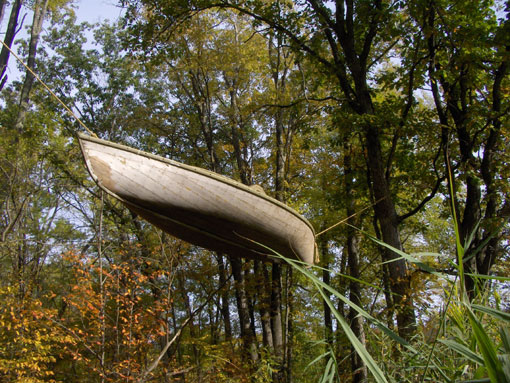 Need proof? How many weddings have boats hanging from trees?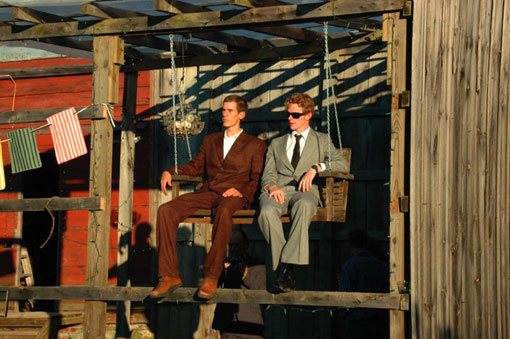 Or characters like this to hang boats in trees?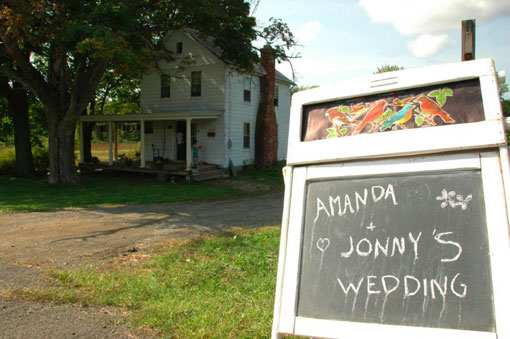 So we had the wedding. And, well, this is the madness of it all: I was the priest! Yes, I conducted the wedding ceremony. Of course, it was an honour to wed friends but I can't describe the pressure I felt. I'd spent six weeks digging and gardening and schlepping garbage, but I knew that if I said the wrong thing at the ceremony all would have been for nought. Jonny even warned me not to get too excited and start talking about 'spiritual energy' or 'romantic karma' or anything like that. The pressure!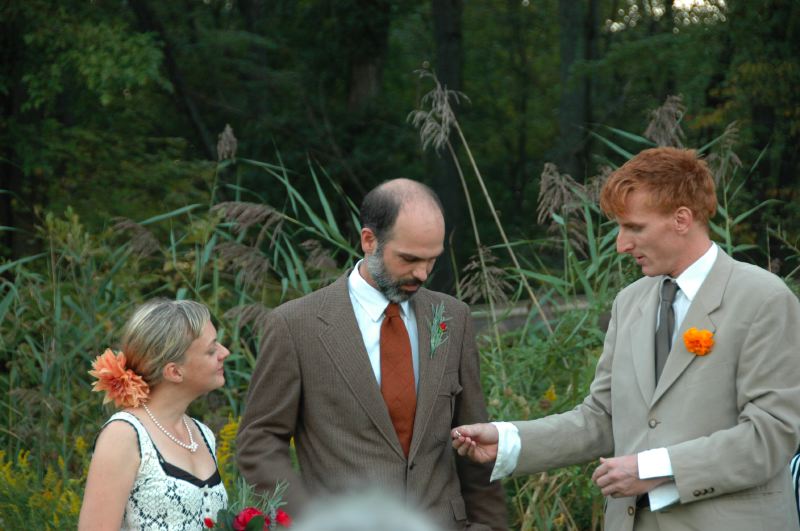 But thankfully, in this, the most important public presentation of my life, I did okay. I kept it short and true and my voice only broke once, and that was just because weddings are so damn emotional. People seemed genuinely happy with my performance, most importantly Jonny and Amanda. Very priestly, everyone said. Alas, a later incident in the barn may have somewhat tarnished my holy image, but all in all I think I did the clergy proud.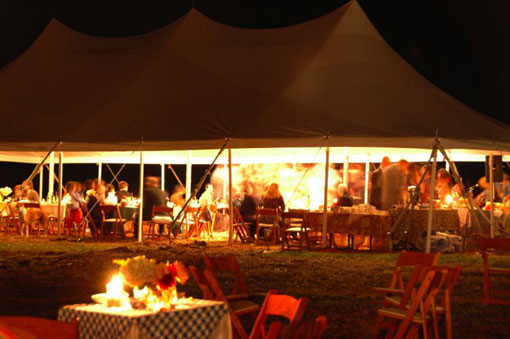 Was it a party? You want to know what I wish? I wish that night was a book, one of those choose-your-own-adventure books, so that I could live it again and again, each time enjoying a different corner of conversation or bonfire dance. This was a night that needed to be stretched out over a year of nights to be properly savoured.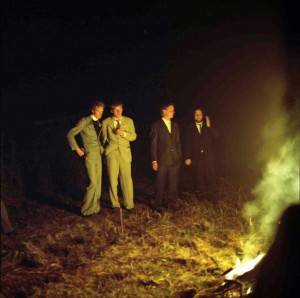 If I take one thing away from the experience it is that my wayward career as a writer may have led to gross financial insecurity and pathetic relationship instability, but it does allow me these glorious opportunities to unite with the people I love and to celebrate the essential beauty of life.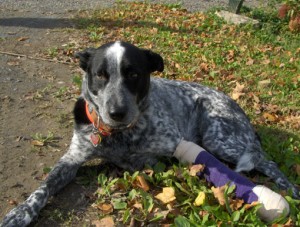 The most amazing thing? Despite the two kegs of Guiness, the 120 bottles of wine, and, most lushly of all, the 100 bottles of premium rum, vodka, tequila and scotch that Amanda was able to acquire grace of her status as the liquor reviewer for a certain men's magazine, despite all that alcohol, there were no major injuries. Unless you count poor Faolain the dog who broke his leg when he fell off the ladder. But what was he doing trying to climb a ladder in the first place????
So, happy marriage Jonny & Amanda. You love each other, we love you, and I was happy as hell to spend those months at your farm.
:: Further Waystations ::

17 Tomatoes

Me & Badinter

A Long Swim

Baku
Halloween

Home & Garden

Upstate

Atelier de Visu

A Greek Sabbatical
- 30 -
← Atelier de Visu
The Majesty of Halloween →