← An Upstate Wedding
Home & Garden →
The Majesty of Halloween
December 2, 2007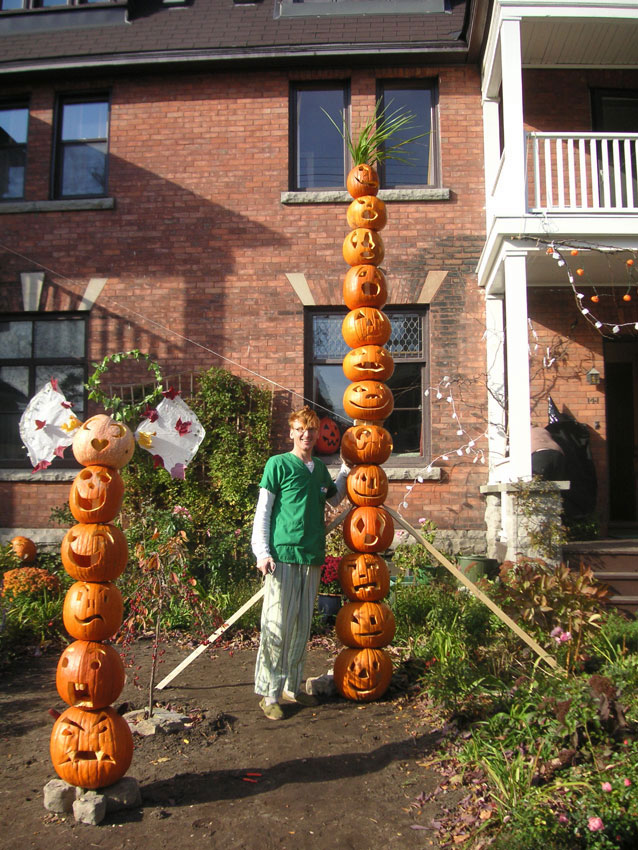 So let met tell you about my favourite holiday ….
Halloween is the most buoyant and joyful of holidays. No suffocating religious affiliations (despite attempts to link it to All Saints' Day), no exaggerated consumerism (at most you buy a dozen or two sacks of candy), and the seductive opportunity to play make believe for a night (I have a surgeon fetish at the moment).
Some of my happiest childhood memories revolve around Halloween, what with the buckets of candy (an early lesson in the benefits of capitalism: the longer and harder you trick-or-treat, the more sugar you get), the costumes (my mom transformed me into a very convincing werewolf one year), and that eerie thrill of being out on the streets after dark (who wasn't afraid 'big kids' would come and steal their candy sack?).
As I now live far away from home, in a culture that barely recognizes Halloween, I make it a point to visit my parents every October. This is the story of Halloween 2007 …
The work started on the 29th with a visit to the friendly pumpkin farm. Pictured here is my girlfriend Géraldine who actually flew from France to Canada to celebrate Halloween. And, yes, this was her very first Halloween. At 29 years old! Can you imagine being 29 years old and never having celebrated Halloween? Them Europeans …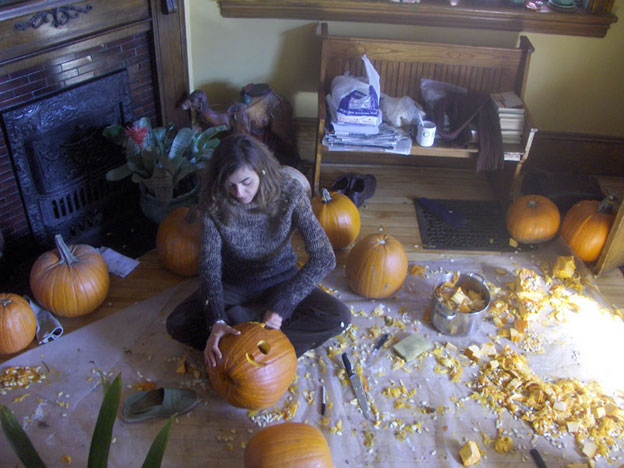 We bought 27 pumpkins in total and when you have 27 pumkins to carve, it is best to take a Tom-Sawyer-whitewash-the-picket-fence approach. Carving pumkins until your fingernails erode is fun! That's what I told Géraldine …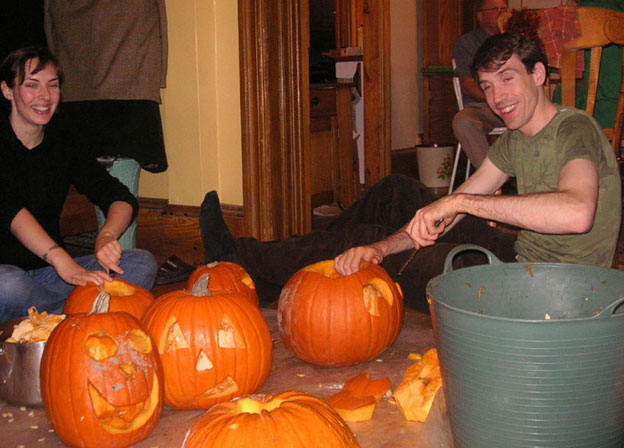 My cousin Mike and his wife Laura …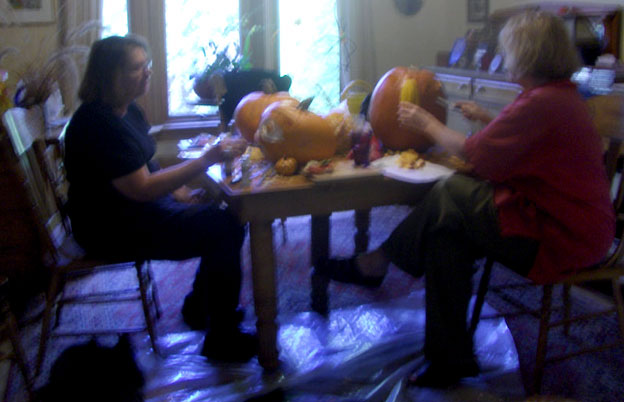 My mom and my aunt Meredith …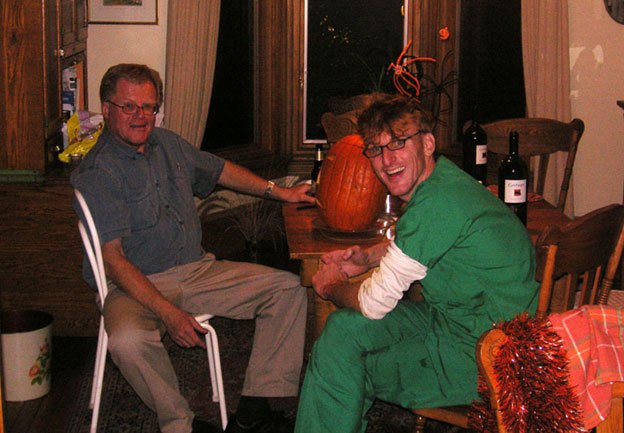 My Dad …
And even this man, an aspiring politician who washes away a bitter election loss with wine and pumpkins.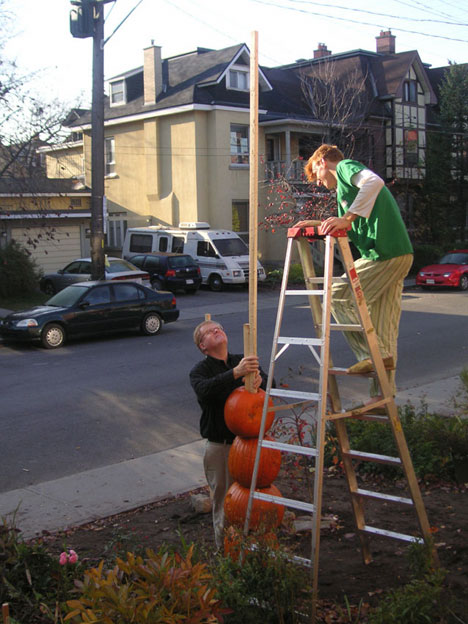 To be utterly immodest (and not for the first time, as this site attests), I have brilliant ideas for pumpkin installations. In 2005, my theme was giant pumkins crushing baby pumpkins between their jaws. In 2006, in honour of the Ligurians who lived in the hills outside of Marseille and ringed their villages with the heads of their fallen enemies, I set up pikes across the front lawn with severed pumpkin heads pierced atop them. And then this year it was the wonder of the pumpkin poles …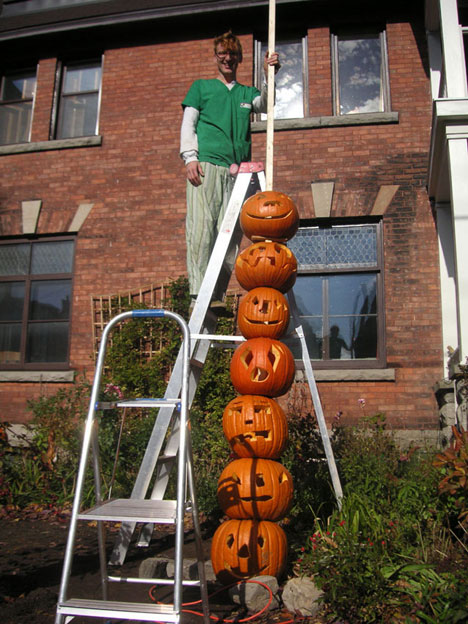 I was inspired by the totem poles created by the First Nations people on the west coast of Canada. My original idea was to have three enormous pumkin towers, each one 15 feet high. Then, I invited my mother and my girlfriend to participate and to my horror, they didn't want to do massive poles, they wanted to do smaller, more intricate and artistic poles. They wanted quality over quantity! The blasphemy!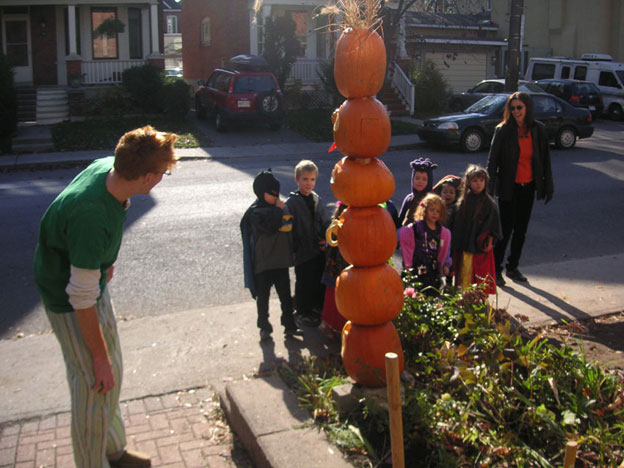 In the end we chose (well, they forced me) to do three poles. Mine, a towering and majestic 14-footer. And theirs, very beautiful (but, let us be honest, a little less awesome) 6-footers. Here, a group of schoolchildren admire my mother's tower.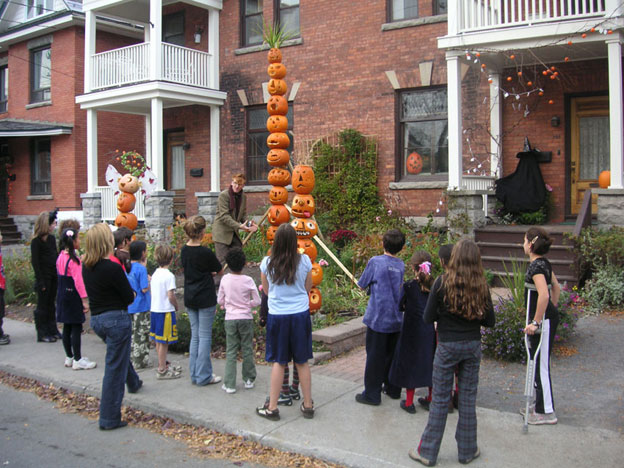 And here, a group of schoolchildren admire my tower. Whose group of schoolchildren was larger? Mine. That's right, mine. Because my tower was more majestic. I am The Pumpkin King. Let's repeat that: I am The Pumpkin King. Ha! Be very afraid all of you pumpkin pretenders out there because The Pumpkin King shall reign for a long time …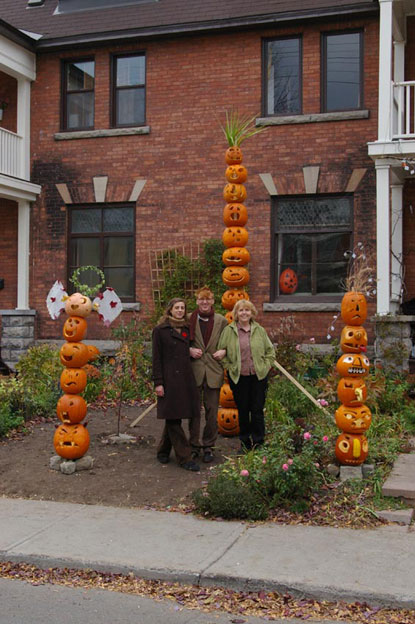 Of course, I am all blather and braggadocio, so you shouldn't trust me. On the left is Géraldine's pole, a six-pumpkin tribute to the range of human emotions, from misery and anger on the bottom to love (with angel wings) on the top. To the right is my mother's pole, exquisite representations of Haida totem art. And, in the middle is my pole, which is simply big, a very very big pumpkin pole. Tell me you like mine the best. Please.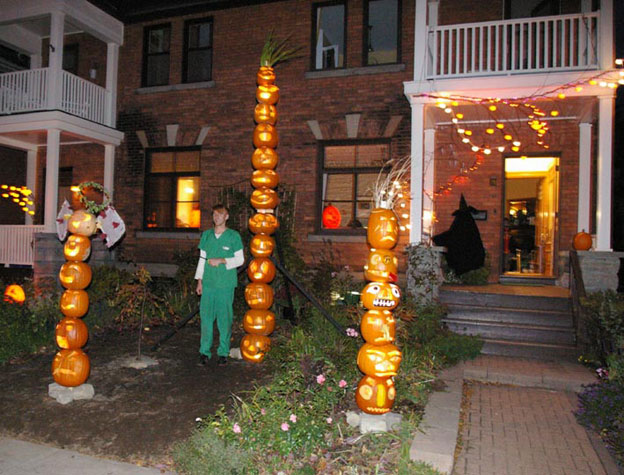 Night falls …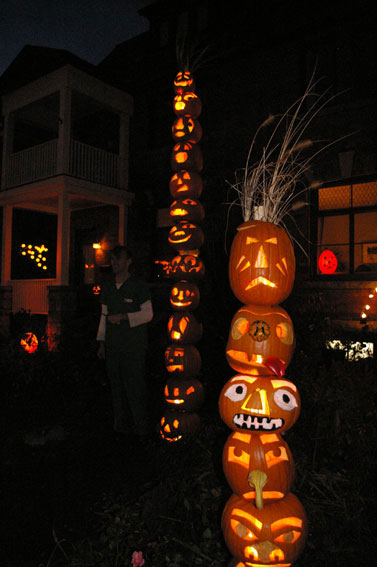 The pumpkins come alive …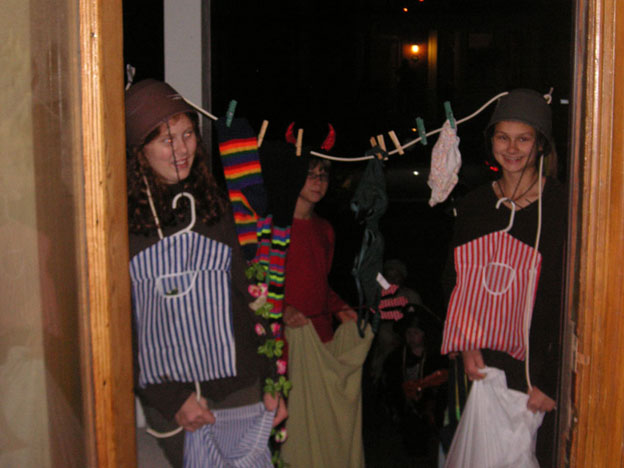 And this was the magnificent reward: trick-or-treaters. I hate to be statiscally obsessed, but I can't help it:
In 2005 (big pumpkins eating baby pumpkins), we had 124 trick-or-treaters.
In 2006 (severed pumpkin heads on pikes), we had 148 trick-or-treaters.
And, thanks to the pumpkin poles and perfect weather, this year, 2007, we had 275 trick-or-treaters. Holy cow, holy mackarel, holy rooster, holy everything.
And this, the clothesline, was the best damn costume of the 275.
Halloween. Pure adrenalin pumping joy. Wait 'til '08 …
:: Further Waystations ::

17 Tomatoes

Me & Badinter

A Long Swim

Baku
Halloween

Home & Garden

Upstate

Atelier de Visu

A Greek Sabbatical
- 30 -
← An Upstate Wedding
Home & Garden →